Regular price
Sale price
€39,99 EUR
Unit price
per
Sale
Sold out
Share
FAST

– Attach and remove your smartphone super quickly by simply placing it on the magnetic holder. No more twisting or screwing! Just suck it up and off you go.

SIMPLE

– No clamps, protruding holders or rubber bands. Perfect for the e-bike with charging function. Smartphone holder in an inconspicuous, reduced and timeless design.

SECURE

– No additional fixation necessary. The strong magnetic force in combination with the special anti-slip layer keeps your smartphone in place. Secure grip, even off-road.

COMPATIBLE

– With our magnetic holders, for example in the car. Universal attachment for every device. All smartphones, navigation systems or other devices with a smooth surface can be attached.

MADE IN GERMANY

– Buy directly from the manufacturer and support the regional economy. Young company in Rhineland Palatinate with excellent customer service and a large inventory of spare parts.
Suitable for handlebars:
Ø 30 – 31.8 mm
Ø 23.6 – 25.4 mm
Ø 20.4 – 22.2 mm
Are you looking for a cell phone holder that adapts to your cell phone and doesn't break again after a short time? Then discover the new Universal 2.0 Bike Magnet Mobile Phone Holder Bicycle in our online shop at bauer-united.com, which not only looks fantastic, but is also incredibly practical and durable.
Due to the easy installation without specialist knowledge and the intuitive handling when attaching, the holder impresses in terms of comfort. In addition, the display is not covered by brackets and the connections are free!
The high-quality Universal 2.0 Bike Magnet Mobile Phone Holder Bicycle has a universal attachment for every device and is so strong that it can easily withstand any of your bike tours through the forest or on uneven roads.
Our holder is made from durable materials and supports the sustainable idea. Strong weather conditions are also no problem. The stainless steel screws connect the aluminum holder to the magnet unit, which is enclosed in special UV-resistant material. Finally, everything is waterproofed with epoxy resin.
The electronics are not damaged by our magnets and your data is always safe. Check out our blog post on the topic. In addition, the rubber-like surface absorbs shocks.
Thanks to the unlimited compatibility, the holder does not become unusable even with a new cell phone and can continue to be used at no additional cost. Experience our further developed Universal 2.0 Bike Magnet Mobile Phone Holder Bicycle, trust our experience and spend money for the last time on a new mobile phone holder!
Discover a variety of possibilities and combine the system with our holders for cars, motorcycles or bicycles and magnetize your everyday life.
View full details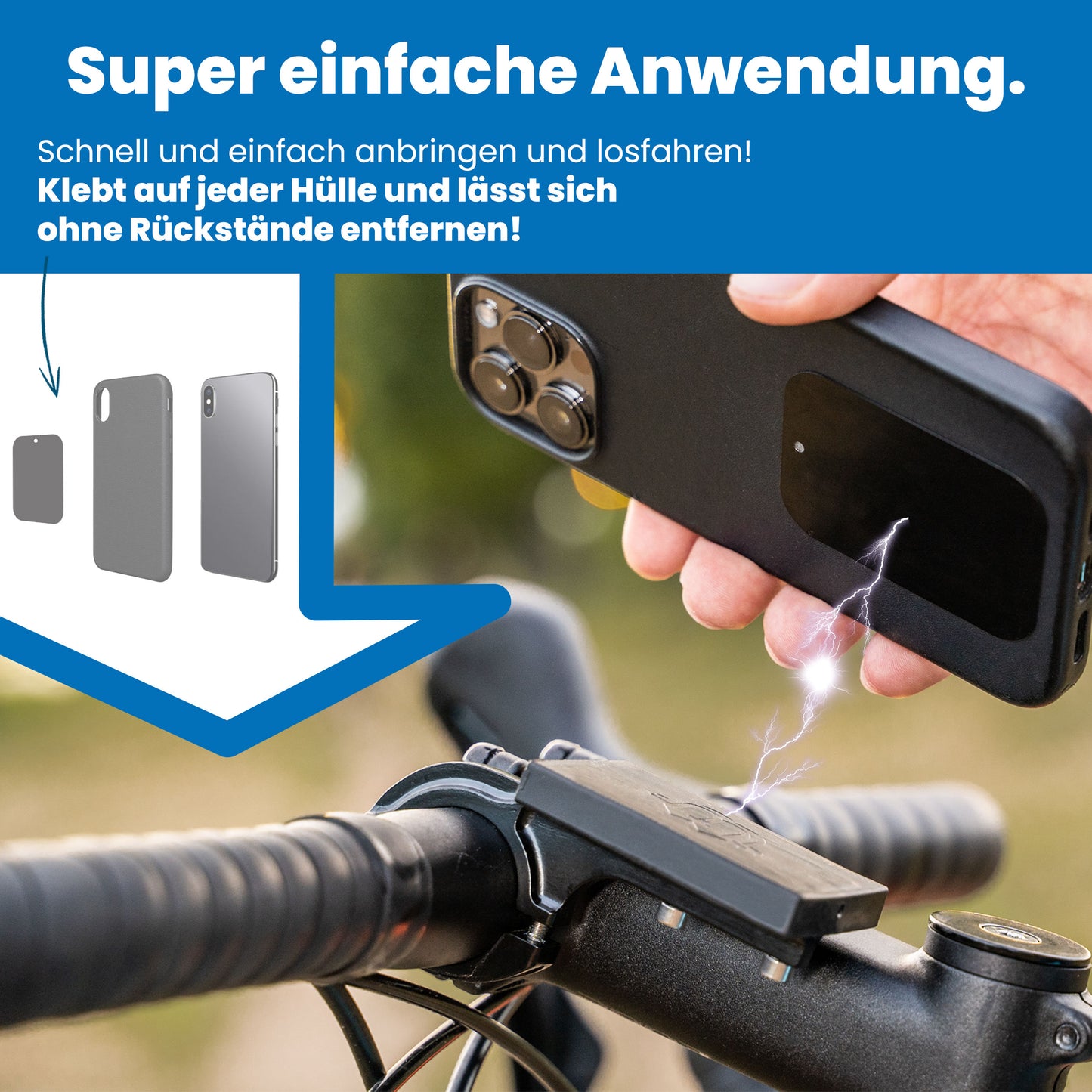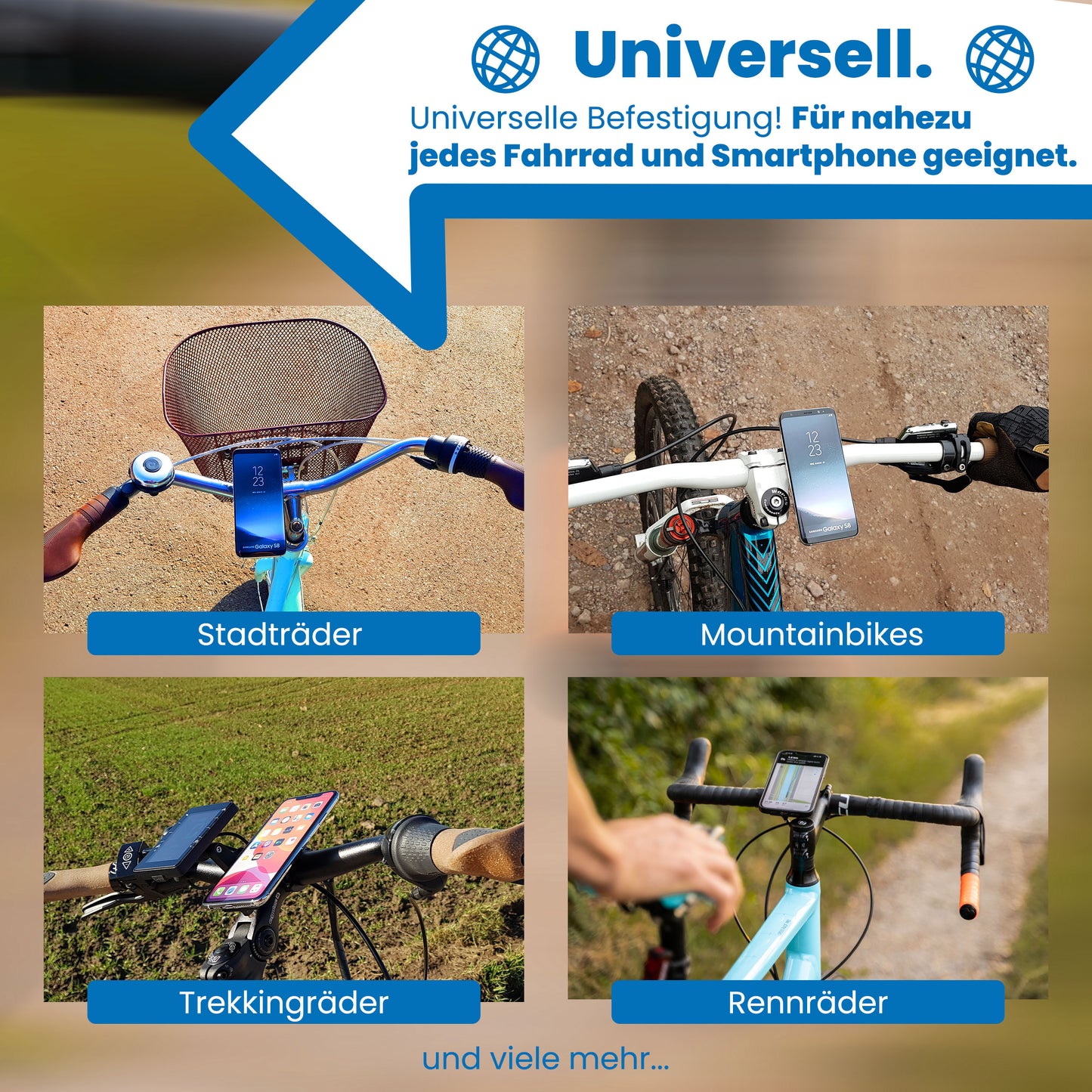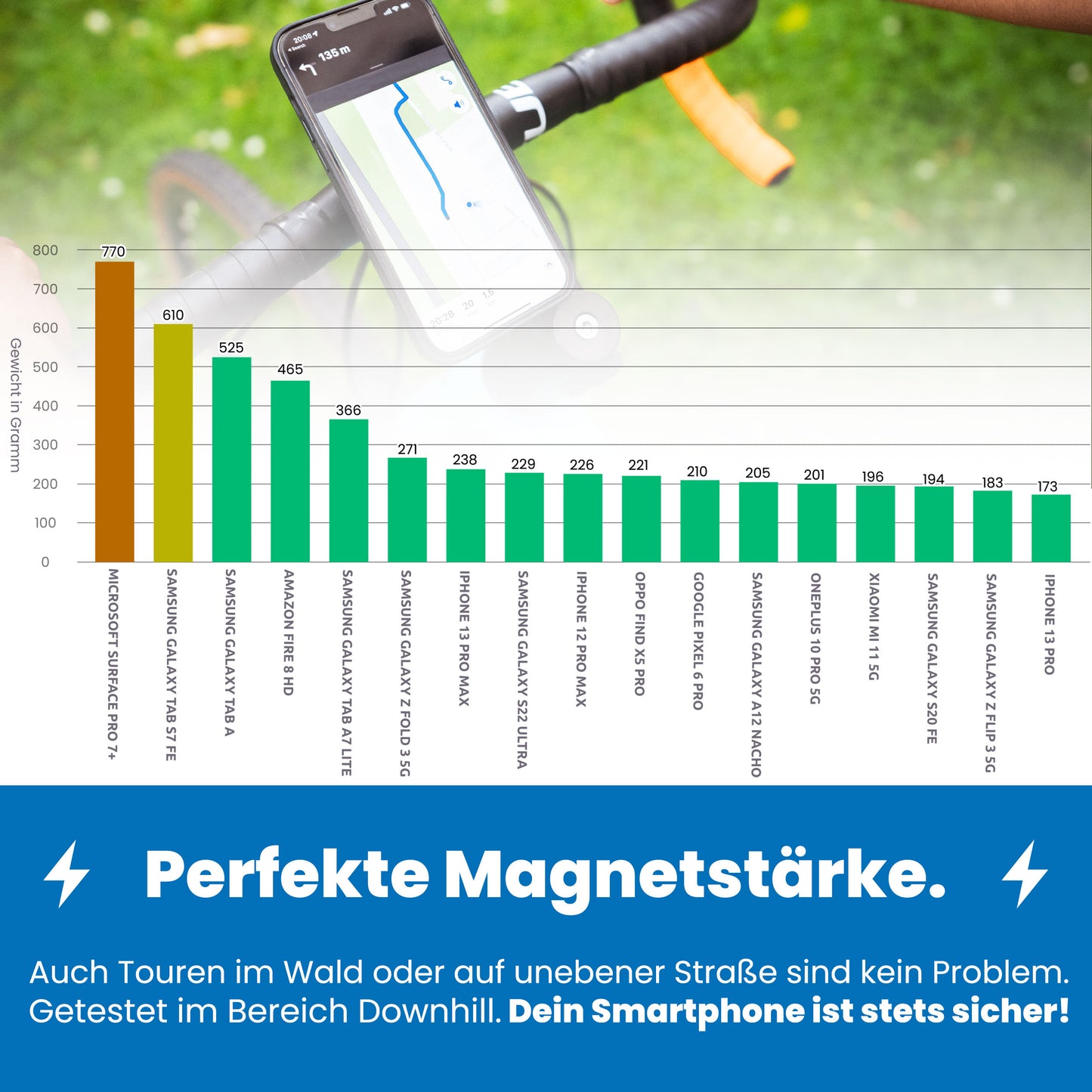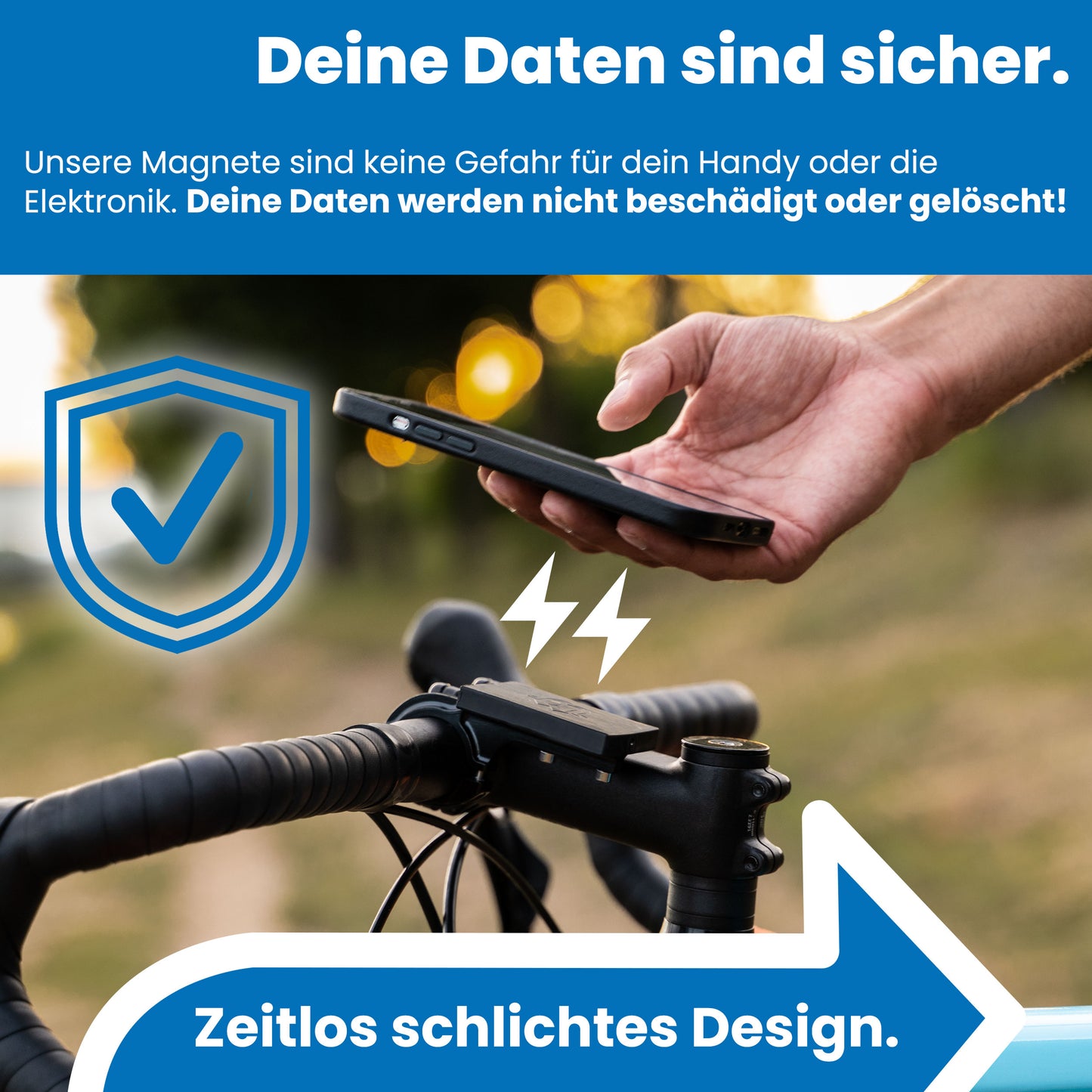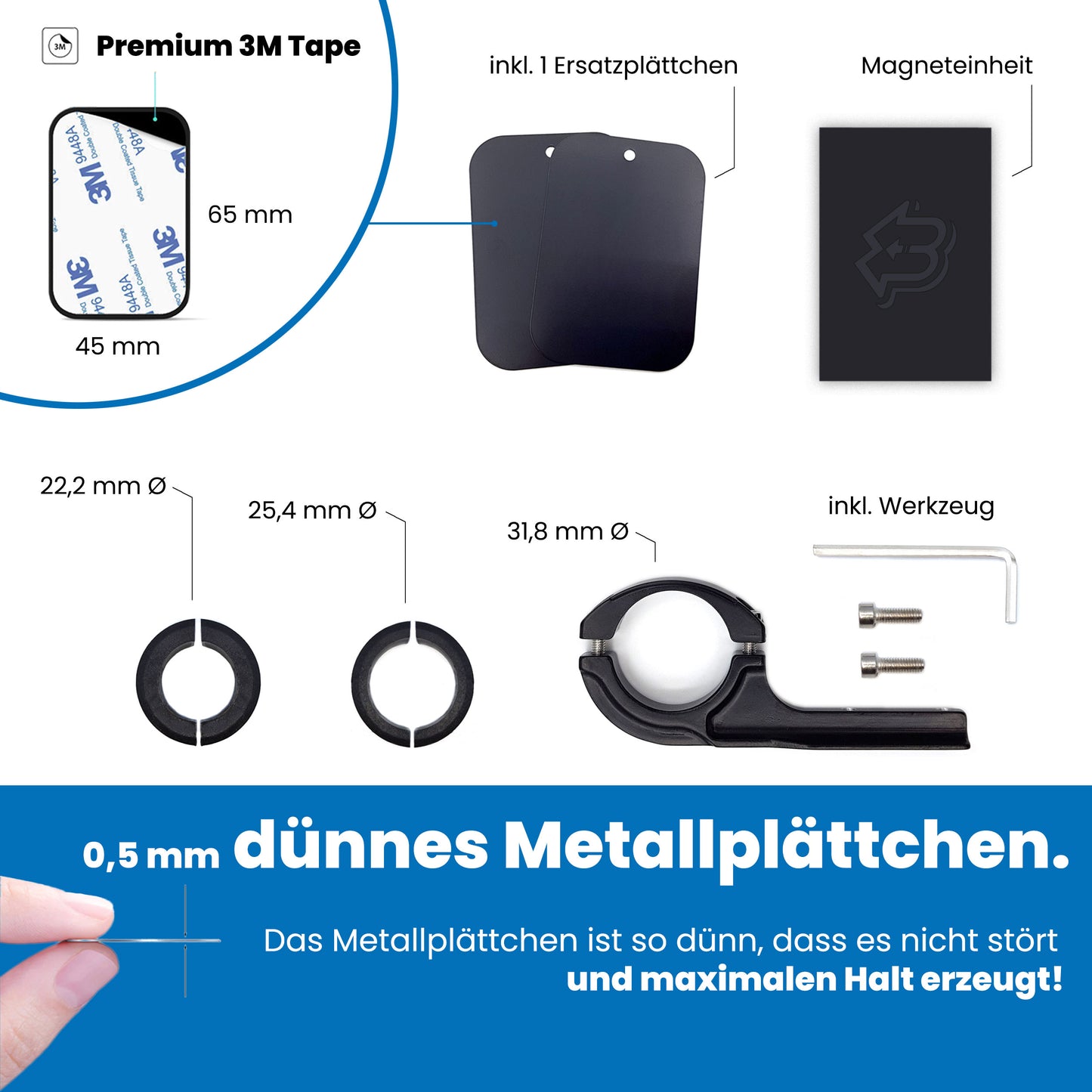 Kontaktieren Sie uns zu individuellen Angeboten oder Änderungen auf Kundenwunsch.
¹Die durchgestrichenen Preise entsprechen dem bisherigen Preis in diesem Online-Shop. ²Angegebene Lieferzeiten gelten für den Versand innerhalb Deutschlands. Die Lieferzeiten für den Versand ins Ausland finden Sie hier.
³inkl. MwSt. zzgl. Versandkosten.