Regular price
Sale price
€29,99 EUR
Unit price
per
Sale
Sold out
Share
A cell phone holder sticking out on the handlebars of my beautiful machine? Never!
For anyone who has ever said or thought this sentence, our Reduced 2.0 motorcycle magnet cell phone holder is just the thing.
No clamps, brackets or anything similar cover the smartphone display and the connections for the charger or headphones are free. There are no costs for a new case for a new cell phone, as is the case with other holders.
Simply place your phone on the tank and the holder is invisible. Reduce your holder to a minimum with our new Reduced 2.0 motorcycle magnet mobile phone holder. Maximum hold with minimal effort, tested on the race track!
The special surface reduces vibrations and achieves enormous adhesion. The material has excellent UV resistance values ​​and can withstand all weather conditions. In addition, our magnets pose no risk to the electronics or data on the smartphone. Check out our blog post about it.
In addition, the holder can be attached to any metal surface. Whether it's a fairing panel on a scooter or a metal tank on a motorcycle.
Thanks to the robust construction, you can use the Reduced 2.0 motorcycle magnet mobile phone holder for a long time and don't have to worry about anything breaking.
Our system can be used in many areas and combines comfort, design and durability in one product range. Discover the possibilities of our products in all life situations.
View full details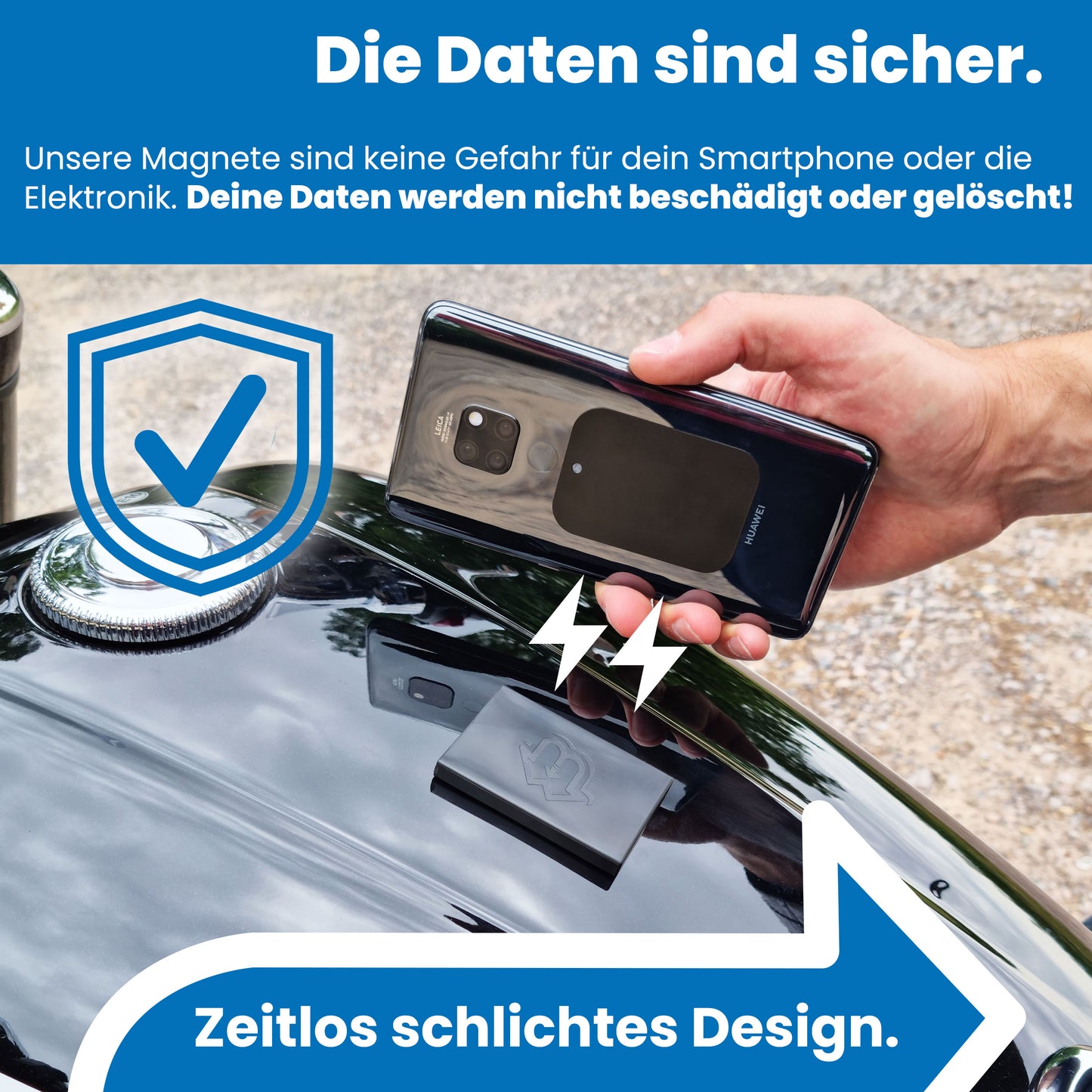 Kontaktieren Sie uns zu individuellen Angeboten oder Änderungen auf Kundenwunsch.
¹Die durchgestrichenen Preise entsprechen dem bisherigen Preis in diesem Online-Shop. ²Angegebene Lieferzeiten gelten für den Versand innerhalb Deutschlands. Die Lieferzeiten für den Versand ins Ausland finden Sie hier.
³inkl. MwSt. zzgl. Versandkosten.