Regular price
Sale price
€49,99 EUR
Unit price
per
Sale
Sold out
Share
Fitting:
BMW S1000RR 2009 - 2018
BMW S1000R 2014 - 2020
Can be combined with a connection kit for easy power connection.
---
❗️ ATTENTION do not connect directly to the battery, as it will be discharged by the charging station when stationary ❗️
Put a switch between them or use the connection kit.
Provided 🔋
Charge your smartphone while driving through induction!
Clean 👁
no visual change to the bike! The magnetic holder is located under the panel and is invisible from the outside.
Sure 💪🏾
no additional fixation required! The strong magnetic force in combination with the special anti-slip layer keeps your smartphone in place. Secure grip, even on the race track!
Flexible and compatible 📱
with common magnetic cell phone holders, e.g. in the car. Universal attachment for every device. Whether small or large smartphones, navigation devices, MP3 players or other devices with a smooth surface can be attached.
Robust and durable 🍃
The holder is made of durable materials and supports the sustainable idea. Strong weather conditions are also no problem.
Integrate your smartphone into your bike!
With our invisible smartphone holder you can make your cell phone part of your bike.
Invisible from the outside, it is located under the casing and holds your device in place with high-performance neodymium magnets. This enables quick attachment and removal.
By attaching it under the cladding, the holder is optimally protected from the effects of the weather.
Contents:
2x self-adhesive metal plates
2x anti-slip layer
1x Bauer Motorbike Invisible Wireless Magnetic Mobile Phone Holder/Smartphone Holder
1x Micro USB cable
1x operating instructions in German
View full details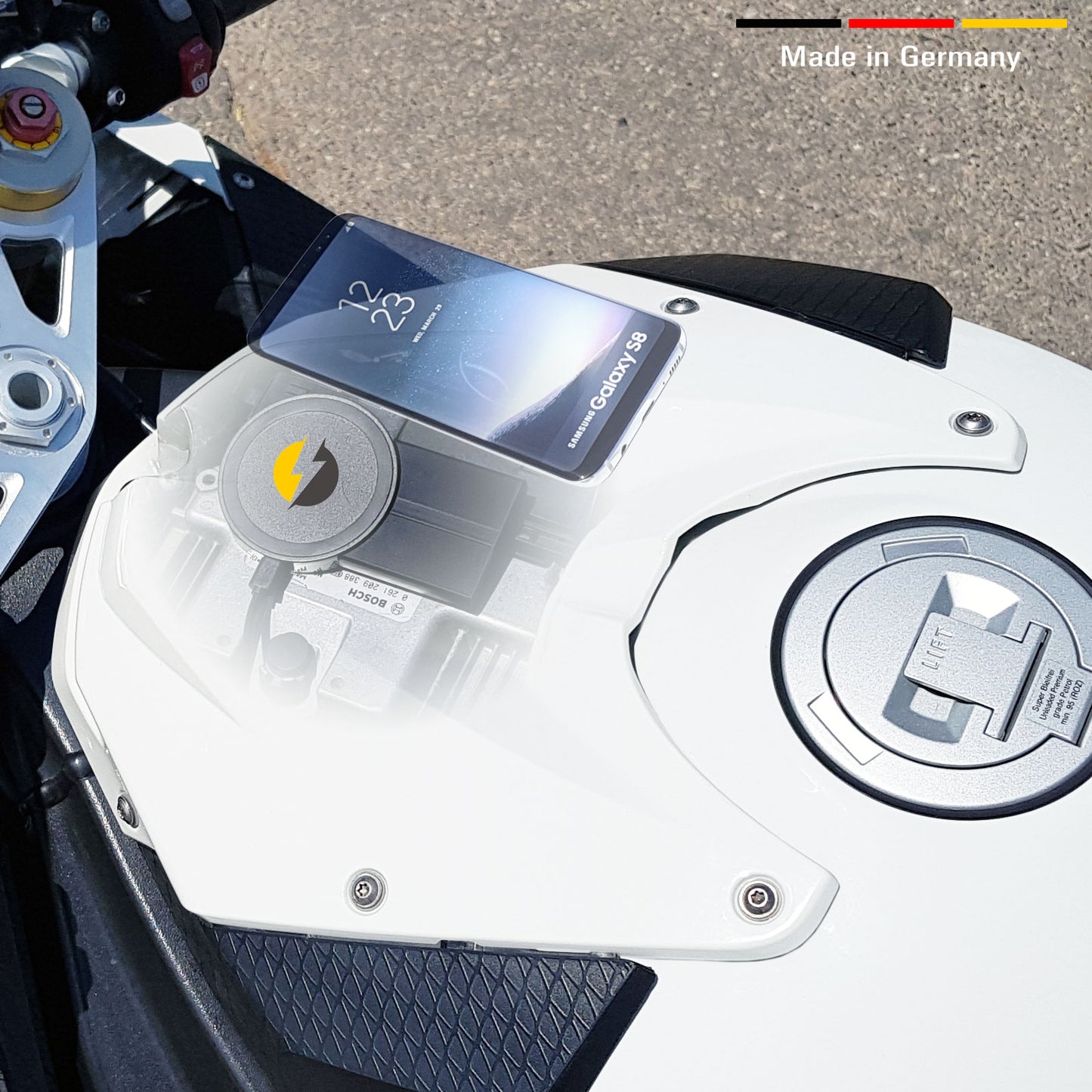 Kontaktieren Sie uns zu individuellen Angeboten oder Änderungen auf Kundenwunsch.
¹Die durchgestrichenen Preise entsprechen dem bisherigen Preis in diesem Online-Shop. ²Angegebene Lieferzeiten gelten für den Versand innerhalb Deutschlands. Die Lieferzeiten für den Versand ins Ausland finden Sie hier.
³inkl. MwSt. zzgl. Versandkosten.